STYLING MY THRIFTED SPORTY SWEATER | #HOWTOTHRIFTSHOP
Hello! Long time no post — so let me do an #OOTD comeback. I always forget to take pictures of my outfit for the blog, I'm so bad at it. It's probably because my ootds are always real time and I don't go out to shoot just to post it but not actually wear it outside. Plus, we have to conside the fact the UAE's summer is the worst so... I don't have the patience to actually stand in the middle of the heat.
Now that the weather is so much better, we now have an excuse to actually wear a much thicker sweater than the usual. This on the other hand is the not-so-normal fluffy, knitted kinda sweater but a semi-swanky sporty one! I say semi because I got this original Phillies Jersey Jacket from my go-to thrift store and bagged it for AED 35. I was definitely feeling the boujee vibe here. Can you tell? 😎♥️
I was going for a street style look and since I recently got my New Balance 247 in Sand Cream colorway, I thought it'd be best to pair them. My sling bag and mirror sunnies definitely pulled off the whole look. You all know how petite I am so the leg game is strong in this one; or at least I feel like I look taller on pictures.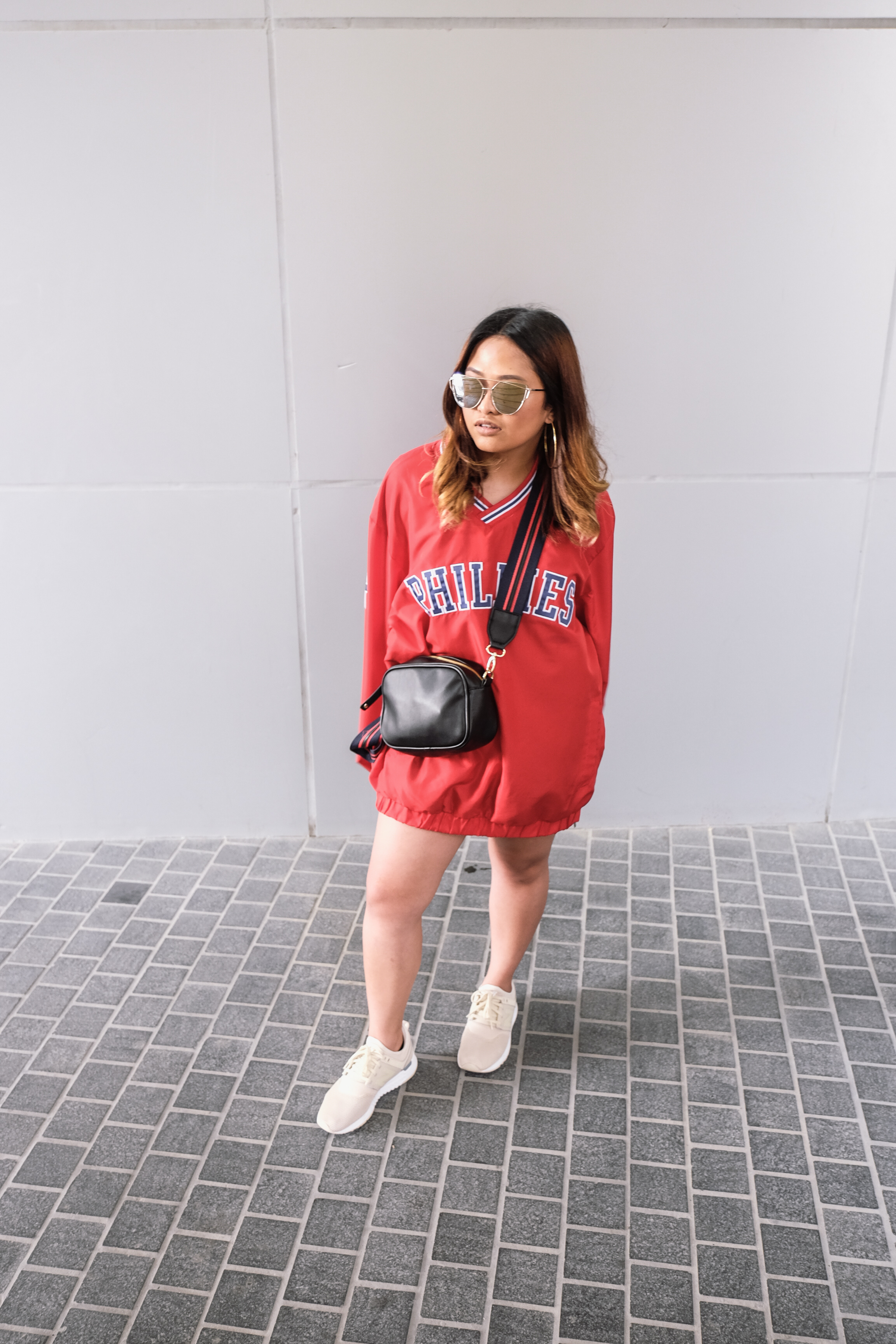 I naturally have big thighs and that's something I have always been insecure about but I'm trying to overcome that lately. I've figured out the styles that would fit my height and oversized tees & sweaters are some of them. How are you liking this look on me?
AS SEEN ON ME | SHOP SIMILAR ITEMS
How are you liking the weather so far? Are you excited to layer in this "cold" weather? Share your thoughts in the comments below!
Disclaimer: This post is not sponsored. Photos were taken by Kieth Walter Ayuso, Patrick Caldito, and Troy Prestosa